141-157 Queens Road, Panmure Cash flow with huge development potential
Tweet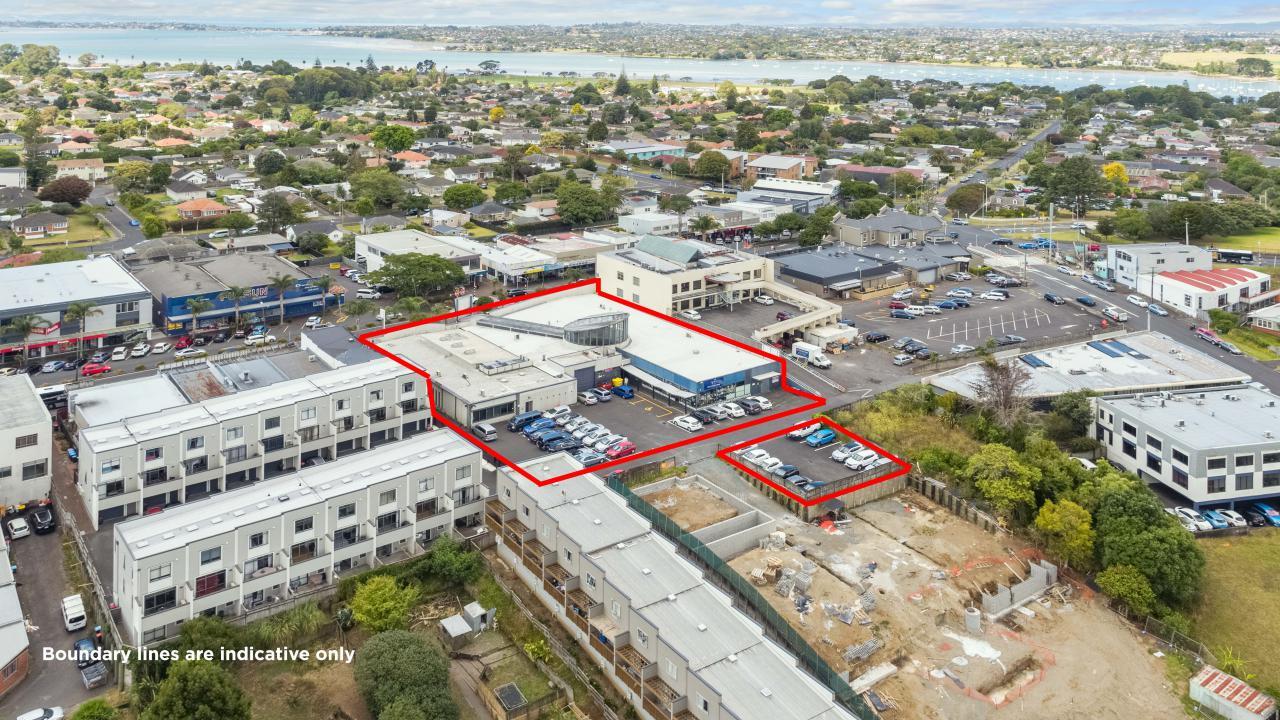 Available PropertyFiles:
141- 157 Queens Rd IM.pdf
/Lease - Cafe/
/Lease - Dove Hospice/
/Lease - New office -Tamaki Redevelopment/
/Lease - Tamaki Redevelopment/
/Property File/
Property Description
141-157 Queens Road, Panmure
bayleys.co.nz/1689929
• 2,963sqm freehold site across two titles
• Town Centre Zoning with 27m height limit
• Multiple income streams from four tenancies including government tenant
• Total gross rental $343,000 pa.+GST
• Single level building with floor area 1,464sqm approx.
• Seismic assessment A grade (92% NBS)

This is a unique opportunity to invest in a high-profile investment with a premium location on Queens Road Panmure. The property consists of a large retail complex with a central atrium walkway through to a large car park at the rear of the property. The key to this investment is provided by the zoning under the Unitary Plan - Business Town Centre, which allows for the development of up to 27 metres in height thus providing a significant opportunity for the development of a multi-level residential and retail complex. Panmure is the gateway to southeast Auckland and to suburbs such as Pakuranga, Howick and Botany. According to Panmure regeneration plan, 7,500 new homes will be built across Tamaki over the next 15-20 years and the population is expected to almost double.

Tender (unless sold prior)
Closing 4pm, Thursday 16th April 2020
Bayleys House, 30 Gaunt Street, Auckland, New Zealand

Please fill in the form below and we'll email you a link to download the PropertyFiles, instantly.
Terms of Supply
The following information has been supplied to Bayleys Real Estate Limited ("Bayleys") to be made available to any prospective interested parties for general information purposes only.
Bayleys and the Vendor do not warrant the accuracy or completeness of the information and recommends that all recipients make their own enquiries to their satisfaction in all respects and seek their own independent expert advice.
---
Contact Owen Ding
Bayleys Real Estate Ltd
Bayleys is New Zealand's largest full-service real estate company.
09 375 7439 027 565 0099 owen.ding@bayleys.co.nz All Listings
Graduated with a Bachelor degree in finance, Owen has joined a very successful international sales team in the commercial property sector.
Owen has strong foundation in real estate having spent years previously working as a salesperson in a successful family real estate development business in Shanghai.
Owen is able to leverage off the combined market knowledge of the team and the broad resources of the wider Bayleys network to optimise outcomes for his growing client base.
Owen thrives on the fast-paced environment with his positive attitude.
Committed to the highest level of client satisfaction, his precise attention to detail and close monitoring of the property market ensures that every client receives the best possible levels of service.
Contact James Chan
Bayleys Real Estate Ltd
Bayleys is New Zealand's largest full-service real estate company.
09 375 8458 021 934 054 james.chan@bayleys.co.nz All Listings
James Chan has been specialising in the sale of commercial property for 26 years and is the first salesperson among Bayleys Real Estate's nationwide commercial and industrial team to have achieved gross sales of more than $1 billion, placing him within an elite group of high achievers within the industry.

James is head of Bayleys' Auckland-based international sales division, a team of multilingual salespeople specialising in servicing the property requirements of both offshore and local South East Asian investors.

In the time he has worked for Bayleys, James has built up a vast network of contacts both within New Zealand and throughout South East Asia. These not only include investors but also banks and financiers, lawyers, immigration consultants and other professionals. Due to "word of mouth" and as the result of numerous successful transactions over many years, James has built a level of trust and reputation which means clients personally seek out his advice.