19/23 Bristol Place, Te Rapa Vendor demands sale, present all offers
Tweet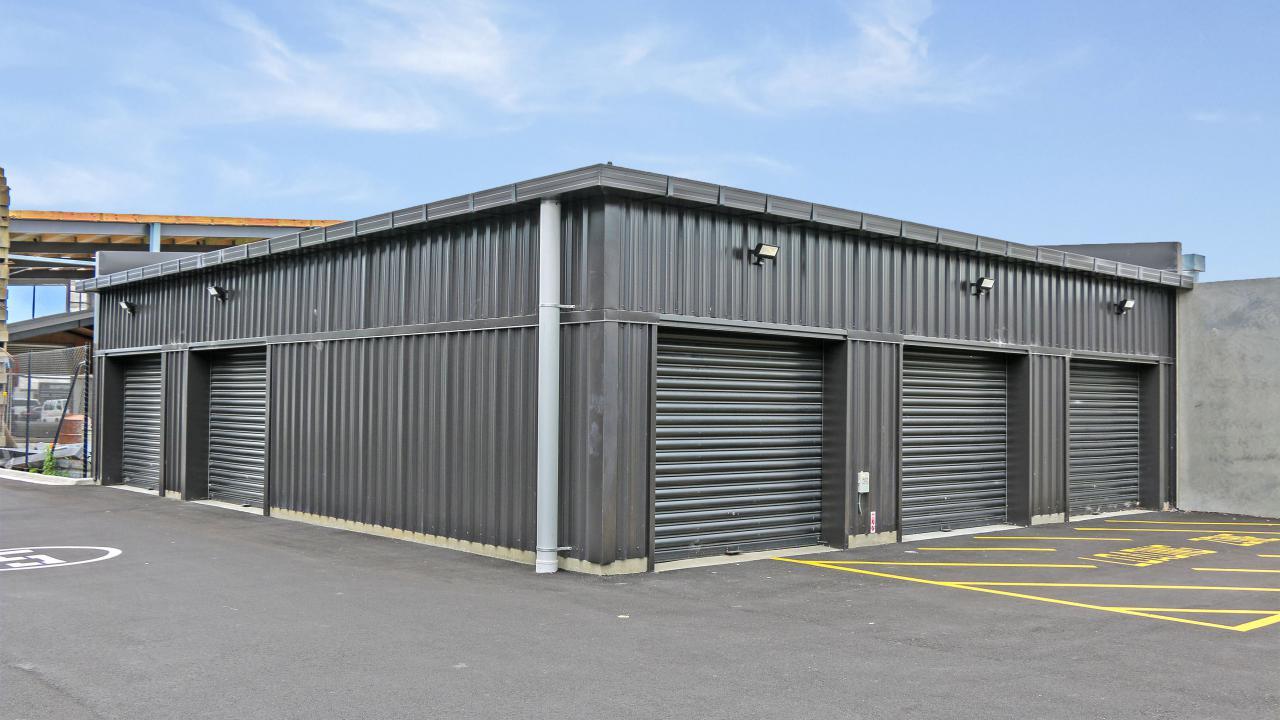 Available PropertyFiles:
19, 23 Bristol Pl - Title.pdf
BC 543687 Minutes 2020.pdf
Body Corporate Operational Rules Bristol Place.pdf
Bristol Pl Draft Body Corporate Budget.pdf
Bristol Storage Tenancy Schedule.pdf
Clinton Draper 25-03-21 SIGNED.pdf
Edward McCudden 27-12-2020 SIGNED.pdf
Ian Kearney 13-02-21 SIGNED.pdf
Natasha Lyttle - Unit 19.1 - SIGNED 19-3-21.pdf
Pre-contract Disclosure Statement.pdf
Shaun Forster 30-11-2020 SIGNED.pdf
Unit 19, 23 Bristol Pl - Information Memorandum.pdf
Unit 19, 23 Bristol Place S&P.pdf
Property Description
• With other projects underway, our vendors instructions are to sell

• Great alternative to the increasingly complex residential investment sector

• Facility made up of 2 x 18sqm, 22sqm, 29sqm and 33sqm (approx.) spaces

• Fully leased and currently returning $28,068 gross per annum

• Ground level access, power to each unit and 24/7 access

Bristol Storage is a near-new 'mini' storage facility located in sought-after Te Rapa. With easy access from the Sunshine Ave roundabout, the central location is within easy reach of Hamilton's residential areas, including the ever-growing Northern suburbs.

On offer is a 120sqm (approx.) unit title property split into five purpose-built storage spaces ranging in size from 18sqm to 33sqm (approx.). All the units have power, 24/7 access and are on the ground level for ease of moving, making the facility perfect for those looking to store personal or work items.

Fully leased and currently returning $28,068 gross per annum, explore the benefits this commercially driven investment provides over the increasingly complex residential investment sector.

With our vendors instructions being to sell this property, don't miss what could be the buy of the year.
Please fill in the form below and we'll email you a link to download the PropertyFiles, instantly.
Terms of Supply
By accepting the information contained in this PropertyFile, I acknowledge I have read, understood and accepted the terms on which the information is made available.
1. Where information is supplied by the agent to customers, the information is information in possession of the Vendor(s) that the Vendor(s) are making available to the customer without endorsement.
2. No representation is made by the agent or the Vendor(s) as to the accuracy, or to the reliability, of any information made available to the customers.
3. The customer will seek such advice and explanation the customer may require from an independent specialist of their choosing.
4. Should the purchaser decide not to obtain their own specialist advice, they are deemed to have satisfied themselves on all aspects of the property and are buying solely in reliance on their own judgement and contrary to the recommendation of the agent.
5. By registering you give consent to receive newsletters from the listing agent and/or PropertyFiles which you may unsubscribe from anytime.
---
Contact Rebecca Bruce
Success Realty Ltd
Licensed REAA 2008
021 063 5165 021 063 5165 rebecca.bruce@bayleys.co.nz All Listings
Commercial Real Estate fits like a glove for Rebecca Bruce, who has a strong analytical mind and a good head for figures. A year after launching her Real Estate career Rebecca made her mark on the national stage by winning the 2016 REINZ Commercial and Industrial Rising Star of The Year.

A Business Management graduate with Honours from the University of Waikato, Rebecca has a long-held affinity for numbers, accounting and marketing. Her mother, is a successful residential Sales Person, which was influential in her career decision. The family is proudly Waikato.

Rebecca deploys a very specific combination of skills when facilitating real estate transactions. Her education, along with her ability to work quickly and accurately with numbers, and analyse data, make her highly effective in the specialised field of commercial real estate. A major focus includes office, retail and hospitality properties, within Hamilton's CBD.

A multi-tasker, Rebecca is driven, focused, energetic and delivers outstanding customer service, analytical data and financial information. She is also warm and articulate. Her professionalism and ability to offer tailored solutions enable her to facilitate commercial real estate transactions at the top end of the market.

I enjoy helping people find what they want and making the process simple and easy for them. It's a very rewarding experience.

Working under the Bayleys banner means Rebecca has access to networks throughout the country, and beyond. Specialist commercial and industrial real estate is the cornerstone of Bayleys' business, a company with the largest commercial property client base in the country.

Rebecca's down-time is spent playing netball and tennis, plus relaxing in Whangamata where she enjoys the beach life.
Contact Jordan Metcalfe
Success Realty Limited
Bayleys Waikato
021 0847 8920 021 0847 8920 jordan.metcalfe@bayleys.co.nz All Listings
Jordan joined Bayleys after a decade-long career in advertising, helping leading agencies in New Zealand, Australia, and the UK to grow some of the world's most influential brands including Sky, Virgin Media, Coca-Cola, Meridian Energy and Subaru.

And while he enjoyed the challenge and excitement of managing million-pound budgets and working within such a creatively focused industry, Jordan had always felt the pull to move back to the Waikato to pursue his passion for property and business. He enjoys being out of the office, meeting interesting people from all walks of life, and seeing the value he can bring to his clients in real terms.

From his previous experience Jordan has developed unparalleled strategic marketing expertise, strong negotiation skills, and a true understanding of how to get into the mind of a buyer. He values a direct and honest approach, where he works closely with his clients to find what success looks like to them, and then makes that happen.

Jordan knows that great communication and results is all about timing - having the right conversations at the right time, with the right people. He achieves this through genuine relationships, and a natural ability to draw out information and insights in those he speaks to, meaning he can make connections between people and properties when others may not.

Real estate has traditionally been a conservative industry where new approaches have been slow to catch on. Jordan wants to change that. He isn't interested in following the status-quo, but sees a big opportunity for the industry to innovate and embrace more modern ideas, technologies and ways of communicating. In an increasingly busy world full of noise, following the crowd will never yield the best results.

In his down-time time you're likely to find Jordan enjoying the Waikato's great outdoors - reliving his previous life as a ski-instructor on the slopes of Ruapehu, improving his surfing skills in Raglan, or taking on another major house or landscaping project on his rural property. He's also always on the hunt for a great coffee (or beer!). You can find his latest recommendations, as well as his listings and market insights, on his Facebook page facebook.com/JordanMetcalfeCommercialProperty.